HIGH DURABILITY
Strengthened Carcass and Bead Structure
Benefits
High carcass and bead safety under harsh conditions.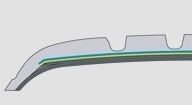 HIGH TECH UNDERTREAD CONSTRUCTION
Jointless "0" degree spiral nylon cover and wide steel belts
Benefits
It improves uniformity for smoother ride, durability and tread wear.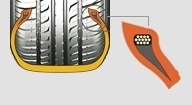 JOINTLESS MONO STRAND BEAD WIRE AND HARD BEAD FILLER
Strengthens the link between tire and rim for a more precise driving experience.
Benefits
Improve lateral stability in high speed cornering and uniformity for smoother ride.